The over-arching purpose is of the Personal Development curriculum is that:
'Pupils will have studied and enjoyed experiences that teach them valuable life skills. They will have developed the confidence, tenacity and intuition to look after themselves, and others. They will demonstrate a deep understanding of the beliefs, faiths, cultures, rights and opinions of others and will be openly accepting and tolerant of differences; physical, cognitive or otherwise. Our students will value democracy and independence; they will seek justice in, at times, an unjust world and strive to make it a better place for themselves and those they are in contact with. They will know the value of honesty, kindness, empathy and compassion, as well as hard work, money and relevant qualifications. Our students will be as unique and diverse as the communities and families that they come from and celebrate these with integrity and respect. They will be morally proud and culturally aware. They understand and be able to apply the skills required to be successful in life, and also save a life. Students will be honourable and driven to achieve, in relation to their own capabilities; they will be humble in success and dignified in defeat, but they will never give up.'
The intent is:
'To ensure the holistic development of pupils through provision of exceptional education every day. To develop and equip pupils with the outstanding character, social skills and moral compass to drive their own success and make a positive contribution to society.'
The discrete aims are:
To extend our whole school provision beyond the academic, vocational and technical
To provide inclusive and accessible opportunities for all pupils
To support and encourage pupils to pursue their individual talents and interests
To provide the opportunities to learn from experience
To address the holistic development of all pupils
To ensure our pupils are safe and happy and know how to maintain these, and what to do in the event that either is compromised
To support the successful development of pupils in many diverse aspects of life
The aims and intent of the framework are based on the school values of:
Care for each other
Learn from each other
Are Safe, Responsible and Respectful
In addition, the framework promotes and upholds the values of Minerva Learning Trust;
Inclusion
Independence
Respect
Success
Personal development involves knowledge, attitudes, skills, relationships and behaviour that can be utilised in and outside the classroom. This involves thinking processes, managing emotions, values and relationships along with a range of life skills that are associated with performing as a successful members of society.
At Handsworth Grange, our Personal Development curriculum consisted of 4 key elements: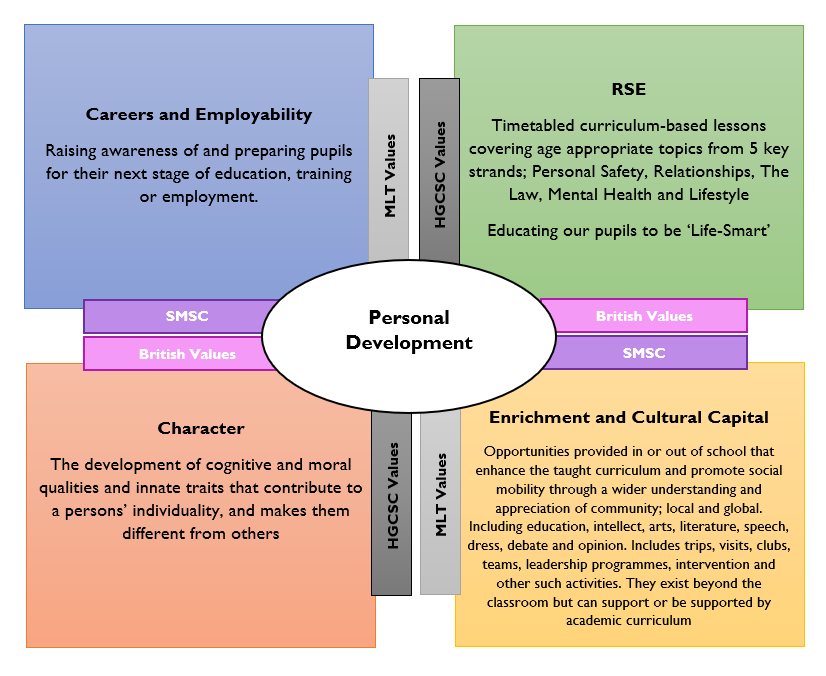 COMING SOON - Updated PD Policy
Whole School Enrichment Offer