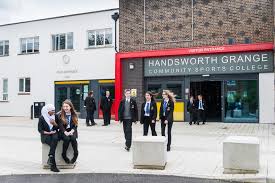 Safeguarding (including Online-safety)
All staff in school are fully trained and understand their responsibilities to ensure that pupils are safe and well cared for. Our dedicated Safeguarding team support this work and are available to pupils, staff and parents should the need arise.
At Handsworth Grange Community Sports College, we are committed to ensuring your child is fully aware of how to stay safe online. We ensure that your child knows what to do if they or their friends are exposed to any online threats. Teaching your child Online-safety is a vital part of the education we provide for all our pupils.
In Year 7, as part of the Computer Science curriculum we teach a topic covering:
Chatroom Etiquette

Cyber bullying

Social Networking Sites

Hacking and Viruses

Also, we aim to ensure that all staff are familiar with Online Safety and adopt a consistent approach to dealing with related incidents and offering appropriate guidance to your child.
All online activity within school is monitored through the school's Smoothwall web filter.
If you would like more information on this topic, you can visit the following website:
Once there you can click on the link for Parent Advice and read all about current issues and gather strategies for talking to your children about the risks posed by online activity.
The digital age has changed what it means to be a child. There are some things that children don't want to see online and that you, as a parent, would rather they didn't. Parental controls are the names for filters and blockers of certain content, and can help you protect your children from the things they shouldn't see or do online.
Please use the links provided to protect your child at home and on their mobile device.